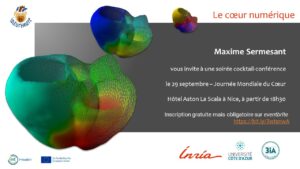 A cocktail-conference evening on the theme of the digital heart at the Aston La Scala Hotel in Nice on 29 September – World Heart Day at 6:30 pm.
During this evening, experts in cardiology, digital simulation and artificial intelligence will discuss the impact of these technologies on the diagnosis and treatment of cardiac pathologies. This event is part of the European project inEurHeart.
Programme: JOURNEE MONDIALE DU COEUR_29 Septembre 2022
Another news.
Press articles
Here are nice articles about inEurHeart
https://eithealth.eu/product-service/ineurheart/